Grandmaster Hee Il Cho
A Lifetime of Tae Kwon Do...
Influencing the worldwide body of
martial arts through his traditional
practices and innovative techniques.
Grandmaster Hee Il Cho: 75 Years of Action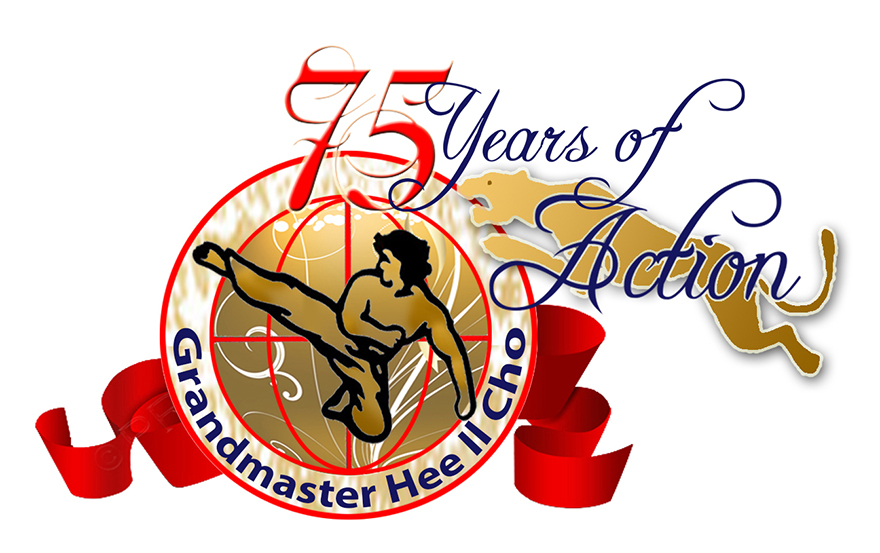 A Living Legend
Available Now! 100 full-color pages with over 275 photos, beginning with the earliest photo ever taken of Grandmaster Cho, through to the present day. Stories and photos of the Living Legend.
Hard cover coffe table book. Book size: 11.5" x 15"

For details on how to order your copy of Grandmaster Hee Il Cho: 75 Years of Action, please contact AIMAA HQ at (808) 396-8900 or email us your request.

"Grandmaster Hee Il Cho: 75 Years of Action, is dedicated to all of my AIMAA family with whom I have enjoyed the past 60 years of my life. I treasure these many years of experiences and I wish to take this opportunity to collectively thank everyone for the years of dedicated support in building the AIMAA.

This is a collection of photos as well as thoughts which I have acquired along my journey of these past 75 years of living. It is a representation of my experiences, beginning with the early days of my life in Korea, and progressing through many years and also many locations. My past has been illumined by the experiences of deep friendship, love and respect, and I consider myself most fortunate and appreciative for these many blessings. I invite you to explore the pages of my 75 Years of Action." --Grandmaster Hee Il Cho




"Grandmaster Hee Il Cho is by far one of the most experienced and knowledgable martial artists of our time. A fighter, scholar, innovator, master, philosopher -the Tae Kwon Do Prophet...!"
-Martial Arts Illustrated
Grandmaster Hee Il Cho, a true legend in the martial arts community, is one of the most respected martial artist of our time. Grandmaster Cho has been inducted to every major martial art Hall of Fame and has shared his 50 years of knowledge with thousands of people around the world. Grandmaster Cho has students journey from all parts of the world to train and study with him. From Ireland to India and all throughout the United States and Canada, martial arts students travel several times each year to enhance their skills as a martial artist. Grandmaster Cho has also instructed some of Hollywood's biggest stars as well as co-starred in several motion pictures himself.
"At age 71, Hee-il Cho is still going strong, teaching class six days a week in his Honolulu dojang. It's proof positive that he's dedicated his life to taekwondo—and precisely why Black Belt has named him its 2012 Man of the Year."
—Black Belt Magazine, August, 2012

Grandmaster Hee Il Cho "grew his student body across America, particularly in the states in which he lived and taught: Illinois, Indiana, Wisconsin, Rhode Island, Massachusetts, Connecticut, California, Florida, Texas, New Mexico and Hawaii. He built his organization, the Action International Martial Arts Association, in North and South America, as well as Europe...He now administers, either directly or indirectly, an estimated 4,000 students around the world.

—Black Belt Magazine, August, 2012
Black Belt Instructor of the Year


9th Degree Tae Kwon Do Black Belt with over 50 years teaching experience and the leading voice in Tae Kwon Do


Featured in the following films: Fight to Win, Best of the Best, Bloodsport II and Bloodsport III


Promoter of over 4,000 black belts and leader of over 100 seminars worldwide


Champion of over 30 National and International Open Competitions

Special Forces Instructor for Army Units in India and Korea

A Lifetime of Tae Kwon Do

"If you teach long enough, you realize that you want to pass along the spirituality,
the belief that the individual can accomplish whatever they want.
It's a lifelong lesson." ~Grandmaster Cho

A true martial artist, one who has given inspiration to thousands of students for countless years, is none other than Grandmaster Hee Il Cho. Grandmaster Cho has devoted his life to the philosophies of his art as well as enhancements in techniques for nearly 50 years. His walk in martial arts began at the age of ten when he was left in humiliation after brutally being beaten up by a local gang. This early incident triggered his determination to never be unable to defend himself again.
Continuing diligently and training daily, Grandmaster Cho received his black belt in Tae Kwon Do at the age of thirteen. Training was much more disciplinary and required arduous hours of overcoming both physical mental barriers. Grandmaster Cho was beaten black and blue several times before the experience of defeat became obsolete. Grandmaster Cho achieved Fourth Dan black belt when he was 21 and was selected to train the Elite Special Forces of the Korean National Army. He was also recruited to train the army Special Forces of India.
Grandmaster Cho was soon actively participating in many competitions and international championships, including martial arts and boxing. He quickly gained a reputation as a fierce fighter and forms competitor and won more than thirty national and international tournaments,.
In 1968, Cho immigrated to the United States and settled in Chicago. He spoke very little English, and the only thing he knew about the city was the name of its onetime gangster king, Al Capone. He didn't know much more about the rest of the country, either. But he learned quickly. After a year, he moved to South Bend, Indiana, then Milwaukee, then New York City, usually working during the day and teaching tae kwon do in the evening before spending the night at the studio. Finally, in Providence, Rhode Island, he opened a small tae kwon do school and used the last of his meager savings to take out a small ad in the local paper. A couple of days later, he had fifty students. He never looked back. Within just a few years, Cho had opened eight schools throughout New England.

Twelve years after the United States became Grandmaster Cho's new found home he founded the Action International Martial Arts Association (AIMAA) in hopes of creating a unified body of martial artists pursuing the peace and harmony of the art.
Grandmaster Cho's contributions to the martial arts have taken on many forms throughout the years, constantly adding to his already enormous list of achievements. Working day and night, Grandmaster Cho produced the most extensive and innovative training library known to the martial arts world. He is author of 11 books, producer of over 70 videos, and the featured martial artist on over 70 magazine covers. In addition, Grandmaster Cho has lead nearly 300 seminars, been inducted into both the Black Belt and Tae Kwon Do Times Hall of Fame, and has also appeared in the films Fight to Win, Best of the Best, Bloodsport II and Bloodsport III.

His sincere dedication and humbleness clearly reflect in the classes that he continues to teach daily at his own school in Honolulu, Hawaii. Grandmaster Hee Il Cho is undoubtedly one of the most important ambassadors in martial arts and continues to bring about changes and ideas that help to improve the many aspects of the art.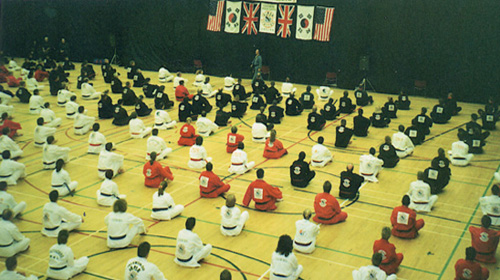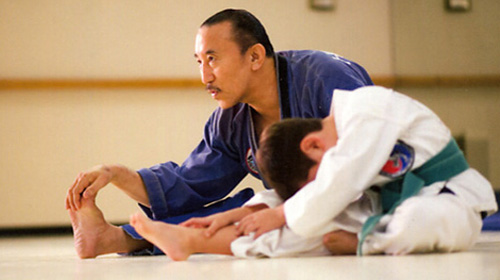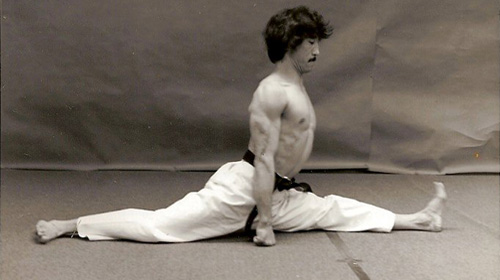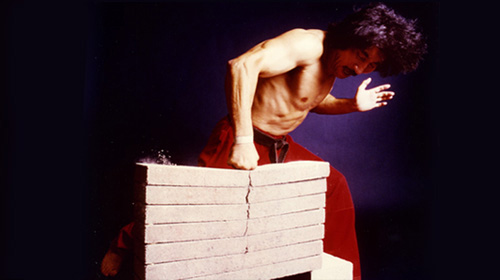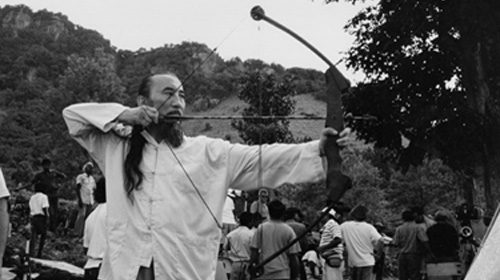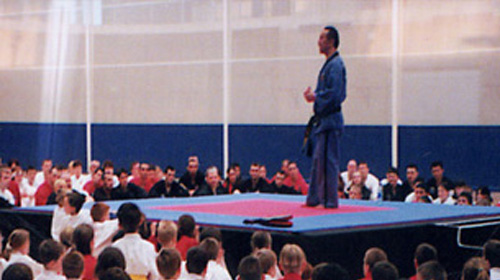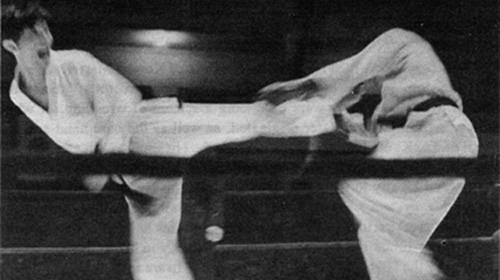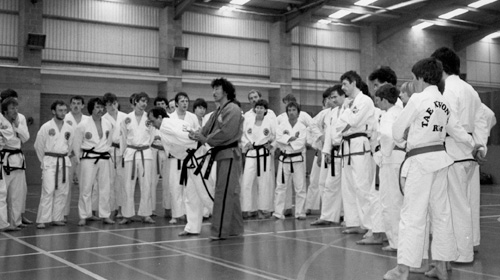 Action International Martial Arts Association