AIMAA Summer Camp 2014
July 14 - 18, 2014
Orlando, Florida
AIMAA Summer Camp 2014
Participants from Europe, South America and USA for this year's Summer Camp!
AIMAA Summer Camp Report

By Karim Belgacem

The success of AIMAA Summer Camp 2014 (Orlando) was once again best captured on the smiling, happy and excited faces of all of its participants!

AIMAA members and Non-AIMAA members from many countries came together in Orlando, Florida during the week of July 14th - 18th to train together under the tutelage and guidance of Grandmaster Hee Il Cho and many other AIMAA Grandmasters, Masters and Instructors.

The AIMAA Summer Camp is a bi-annual gathering of like-minded martial artists to a chosen destination for a week long, non-residential training camp. All classes are held in the morning time allowing all visiting campers ample time to enjoy the many attractions and holiday activities available in each of the chosen destinations. The previous AIMAA Summer Camp, held in 2012, was hosted by AIMAA Europe on the picturesque Channel Island of Jersey.

The Sunshine State of Florida, USA was the chosen destination this time around and it proved to be extremely popular with everyone. It was a perfect combination…the chance to train alongside Grandmaster Hee Il Cho, AIMAA Founder and President whilst on the same trip enjoy the many theme parks and attractions within Orlando.

AIMAA members from Ireland, England, Scotland and the USA were joined by guests from England, Norway and even Brazil—all training hard, forging friendships through Tae Kwon Do, and together developing a solid camaraderie which grew and grew as the week progressed.

The camp got off to the best possible start with the very first class being taught by the AIMAA Technical Director and most senior student of Grandmaster Cho, Grandmaster Philip Ameris of New Kensington, PA. Grandmaster Ameris lead all camp participants through a highly informative seminar, focusing on elbow striking - both from a traditional and a street/ self defence view point. Grandmaster Ameris is renowned throughout the martial arts world for his extremely effective and dynamic self defense abilities, however, he stressed that these skills cannot be honed without having the strong dedication to the practice of basic, fundamental techniques.

Grandmaster Ameris taught a seminar that was loved by both adults and children and was the perfect start to the Summer Camp proceedings.

During the AIMAA Summer Camp, Grandmaster Cho traditionally teaches two seminars, one for all camp participants and one specifically for all children in attendance.

Day two of the camp brought the first of these very special classes and it was no coincidence that this was the day everyone was looking forward to most! With a planned start time of 9:00 a.m., the Summer Camp venue began to fill up just after 8:00 a.m. Everyone was so eager to train once again with a living legend of our chosen art. It is very difficult to capture with only words the atmosphere that is created during one of Grandmaster Cho's renowned seminars.

From his introductory speech, Grandmaster Cho held everyone's riveted attention. In an enlightening and inspirational message, Grandmaster Cho expressed his wisdom of nearly 75 years with the encouragement to every student to rise above the small concerns and complaints of everyday living and embrace a more humble, accepting and forgiving attitude towards all. This year's Summer Camp theme was written on the camp t-shirts, "Our ultimate goal is happiness," and during his opening address, Grandmaster Cho pointed to this theme as a directive to each martial artist to strive for the values of harmony and unity in their relationships and lives.

The entire training hall was spellbound until the very end of the seminar. What began with a brilliant address, was followed by nearly two hours of intense, dynamic and fun-filled Tae Kwon Do stretches, drills, punches and kicks.

Grandmaster Cho's seminar started off with a very thorough stretching routine warming up both the upper body and legs in preparation for what was to come.

He then led everyone through some very dynamic punching and kicking drills as well as working on everyone's blocking skills. Grandmaster Cho also ensured that everyone was making the correct stances whilst executing each technique. What must also be said is that, as per usual, Grandmaster Cho demonstrated every last technique.

The power, speed, accuracy and timing of every motion and technique left everyone in complete awe. There was also a few lovely moments when applause rippled through the seminar participants before they remembered to actually throw the requested technique. Such is the ability of Grandmaster Cho, those participating in his seminars cannot help but keep their eyes fixed on him, sometimes enjoying watching the great man in action more than actually training themselves!













For the rest of the week, the three remaining AIMAA Masters in attendance took turns to teach exciting and highly informative seminars.

First up on Wednesday morning was the AIMAA European Director, Master John Darcy. Master Darcy's seminar was crammed full of technical and curriculum based work – his specialties. Master Darcy's understanding and execution of the AIMAA Grading Curriculum is second to none and for everyone in attendance this was a wonderful seminar in which they got to focus on stances, crossing, power generation and footwork. Master Darcy also lead the students through some patterns practice, during which he again highlighted points where technical improvements could be made…all of this whilst working the students hard with an above average pace and buzz to proceedings.

Master Darcy concluded his seminar by showing everyone some very effective self defense locks, strikes and takedowns. Master Darcy draws on many years of close protection and security work to highlight to students what will work whilst defending yourself and how to make each technique as effective as possible.

Grandmaster Ameris mentioned on more than one occasion throughout the camp how Master Darcy's technique is closest to Grandmaster Cho's. Quite a compliment. Master Darcy's fantastic seminar left everyone in no doubt of how valid a point it was.

Master Kirkwood of Scotland was next up to teach on Thursday morning. Master Kirkwood has vast experience from competing in and winning numerous sparring competitions, both at home and abroad. Master Kirkwood started warming everyone up with hand drills before moving onto kicking drills and eventually combining the two in the most effective manner. Master Kirkwood's sparring seminar was very challenging, but one which was very well received and enjoyed by all.

The Grandmasters and Masters were not alone in teaching during the camp. Every day the schedule would be split up into two sections, with a Master teaching in the early morning and then an International Instructor teaching in the late morning. These International Instructor classes covered a vast array of different areas and training subjects. Again, it was an international affair with Instructors from Ireland, Scotland, USA and Canada teaching on each of the days. Among those teaching were: Mr. Karim Belgacem, Mr. Paul Healy, Mr. Sean Farrell, Mr. Mark Corupe, Mr. Aeneas O'Connor, Mr. Charles Boyle and Mr. Nick Gleeson. Students trained under these fantastic Instructors in Patterns, Line work, Sparring and Self Defense to name but a few.

A special mention should also be made of Mrs. Jeannie Ameris and Mrs. Denise Farrell from AIMAA USA. These ladies were tasked with leading the children's program at the camp and together they accomplished a wonderful job of teaching quality martial arts to the children whilst at the same time keeping them constantly entertained by mixing in fun and games as well.
Orlando, Florida 2014

The final day of AIMAA Summer Camp 2014 was very special indeed - especially for the children who attended the camp. This was the day of Grandmaster Hee Il Cho's children's seminar!

It was also the turn of Master Peter Byrne, the Irish Director, to teach and whilst Grandmaster Cho taught the children, Master Byrne lead the adults through the AIMAA One-Step sparring curriculum. Master Byrne is famous throughout the association for his ability in this field. Everyone was lead through a warm up and then partnered off to drill each One-Step…only, however, after Master Byrne had demonstrated each technique with devastating speed and force!
While the adults were working with Master Byrne at the other end of the arena, all of the children were having a wonderful time learning from Grandmaster Cho. To have Grandmaster Cho teach just the children allowed them all an opportunity of a lifetime to be in such close proximity and to have such focused attention from Grandmaster Cho.
There is no one in the world who teaches children like Grandmaster Cho. He is able to capture their spirits in every class whilst maintaining an air of discipline. For every stern instruction there is a giggle and a smile. For every traditional instruction there is a funny face. No one gives the children more and no one gets as much out of them. Every child on his seminar was focused from the very start—all using all the power they could muster and all demonstrating a louder Kihap than any of the adults! 'TAE KWON DO, TAE KWON DO' could be heard by everyone in the arena as the children matched each triple technique up with the name of their adored pastime!
AIMAA Summer Camp 2014 was another huge success for our wonderful association. It was an opportunity to build stronger relationships between old friends and of course an opportunity to create new ones.
All AIMAA members are blessed with the high caliber of instructor we have in the association and none are higher than Grandmaster Cho himself. He is an inspirational figure—leading from the front at all times and not only creating better martial artists but, more importantly, better people.
We were again reminded of the camp motto, 'Our ultimate goal is happiness,' during Grandmaster Cho's inspirational closing remarks.
How can we make ourselves happy? By training Tae Kwon Do of course!
"Our Ultimate Goal is Happiness"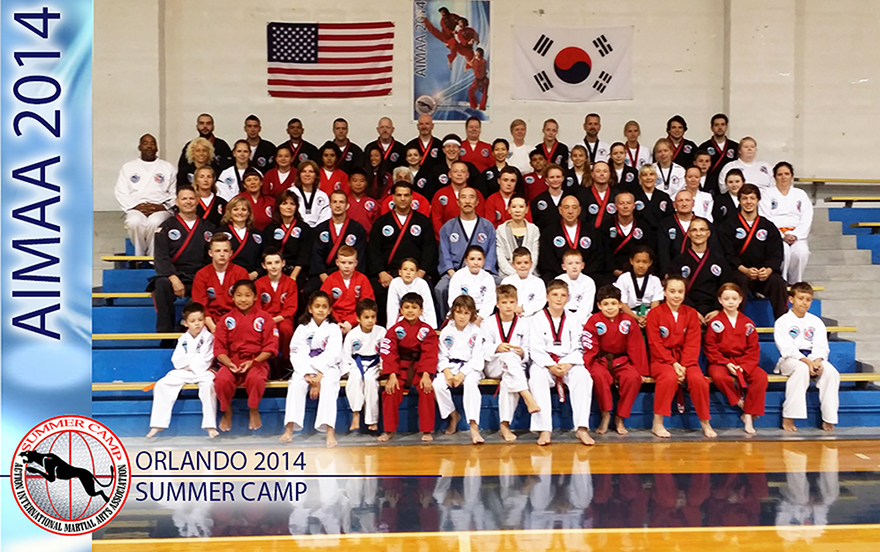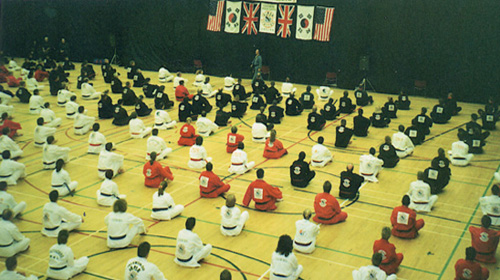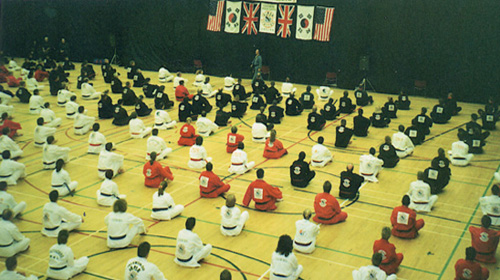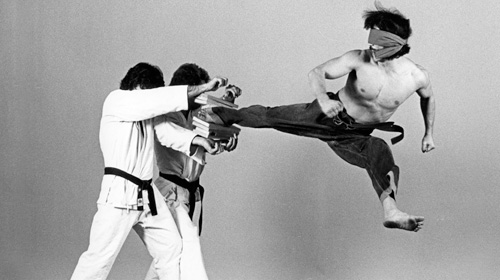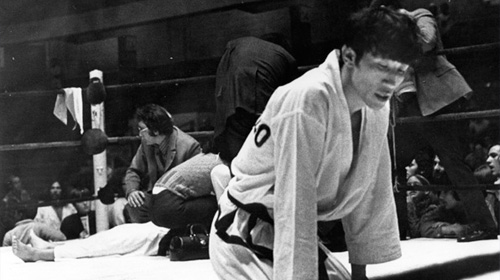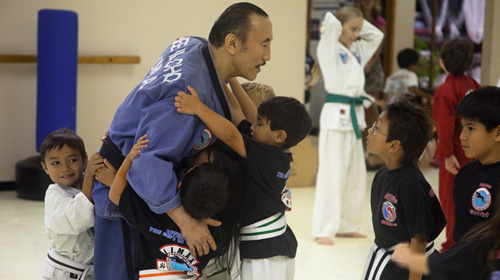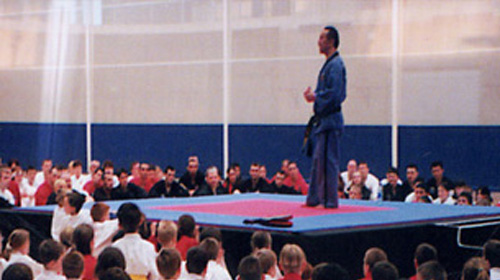 Action International Martial Arts Association